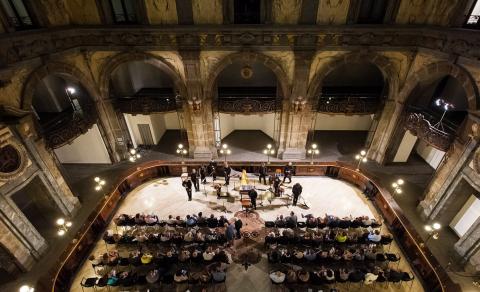 The Associazione Alessandro Scarlatti
Among the leading associations and organisations supported by Intesa Sanpaolo, the Associazione Alessandro Scarlatti based in Naples stands out for its tradition of promoting and increasing our understanding of ancient music. Over the past hundred years, the Association has staged numerous musical performances, including entire cycles such as the Beethoven Quartets, Bach's Well-Tempered Clavier and real "monuments" such as Bach's St Matthew and St John Passions, Mass in B Minor and Christmas Oratorio, Mozart's Mass in C Minor, Davide penitente and Requiem, and Handel's Messiah – works that are core parts of the musical heritage for every generation of listeners; it has always played an educational role too, organising conferences, round tables and conventions on musical, social and cultural topics.
---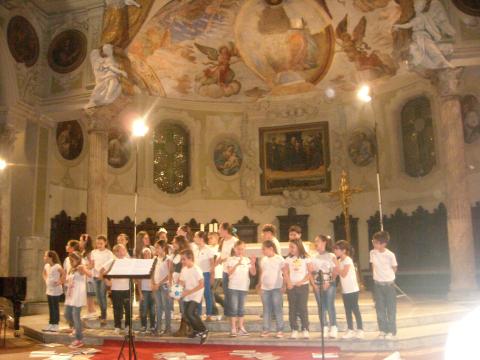 With a particular focus on young people from disadvantaged backgrounds, Intesa Sanpaolo is supporting a music education programme aimed at children between the ages of 8 and 14. Reflecting the idea that "children learn by experience", a choir has been set up in a school in the Mercato/Pendino district of Naples, introducing 35 children to the joy of music. Supported with twice-weekly practice sessions, the young singers have performed in public several times, with a repertoire of Neapolitan composers reflecting their growing abilities. Gallerie d'Italia at Palazzo Zevallos Stigliano opened its doors to host the traditional Christmas concert by the acclaimed children's choir.
A new step along the Associazione Alessandro Scarlatti's educational pathway was the premiere of the musical work "Un bambino di nome Gennaro" by the Gli Angiulilli choir of Naples, performed by 30 children from the city's ICS Paolo Borsellino school. The choir was founded in 2008 as part of the "La musica in mano ai criaturi" project with the support of Intesa Sanpaolo. "Un bambino di nome Gennaro" is a modern oratorio telling the story of Joachim, nicknamed Gennaro, a Romanian boy who fits in perfectly with the local "street urchins" whose only moments of childhood joy come in their football games on the forecourt of Naples Cathedral. Yet Joachim also feels the pull of music, the universal language that speaks straight to the heart. Having noticed his passion, and moved by a heartfelt plea from Joachim's mother, Don Luca introduces the boy to the children's choir practising in the church. Joachim finds himself in the awkward situation of being pulled between the street children and the choristers. In a testing moment, he feels excluded from both groups, but with humility and courage he manages to build a bridge between them.
---