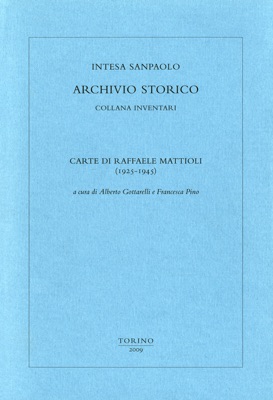 Le carte di Raffaele Mattioli
Raffaele Mattioli (1895-1973), managing director of Banca Commerciale Italiana from 1933 to 1960 and its chairman from 1960 to 1972, was one of the most prominent bankers of the 20th century, a well-known figure in global banking and international finance.
A superb economist, he was a staunch advocate of industrial development. Well versed in the humanities and active in the world of publishing, he promoted and organised many cultural projects, focusing particularly on economic history, literature, philosophy, and, to a lesser extent, art and architecture.
The Mattioli Papers are divided into alphabetical folders of personal correspondence.
The almost three thousand letters are addressed to bankers, business people, financial authorities, Comit personnel, scholars, friends and family members.
The inventory – with analytical descriptions of the documents and cross-references – gives an insight into official matters and the problems of managing the bank between the two World Wars in Italy and beyond. A significant amount of information – possessed by few Italian and European banks – was flowing into Milan from the major international markets at the time.
In a wider sense, the Mattioli Papers give curious readers an authentic insight into Italy's institutions and financial professions, as well as its political and civic context; they are worthy of comparison to famous letters and 'celebrity papers' such as those of Luigi Einaudi and Alberto Beneduce.
The inventory throws light on the ideals and political initiatives of the anti-Fascist movement (most evident in the letter books and paperwork produced in Rome in 1943-1945) and the concrete support given to discriminated Jews, prisoners and missing people.
They also chart the 'high culture' which Mattioli nurtured after the Second World War, both with the publishing house Ricciardi and with the creation of outstanding research centres such as the Italian Institute of Historical Studies in Naples.