The Historical Archives are home not only to the archives of Banco Ambrosiano Veneto, but also the two banks which merged to found it on 31 December 1989: Nuovo Banco Ambrosiano and Banca Cattolica del Veneto, as well as the Milan-based institute's direct antecedent, Banco Ambrosiano, founded in 1896.
The archives' documents reveal centuries of history connected to the institutions, key players in the vicissitudes and events of 20th-century Italy, as well as the banks that have merged with them over the years; the company records of no less than 27 institutions from the Veneto region and southern Italy are available for consultation.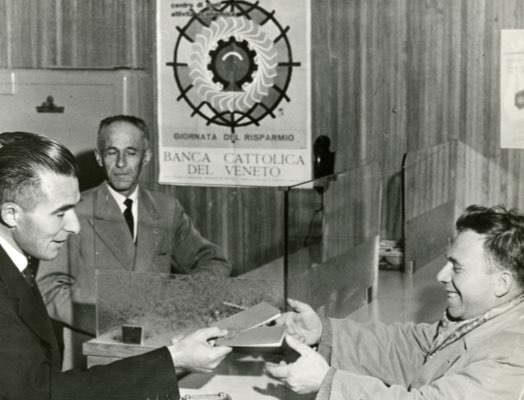 Timeline
1892
Banca Cattolica Vicentina is founded in Vicenza; in 1930 it changes its name to Banca Cattolica del Veneto
1896
Banco Ambrosiano, a joint-stock credit institution, was founded in Milan
1982
Banco Ambrosiano is listed on the Stock Exchange. Nuovo Banco Ambrosiano is founded following the bank's financial collapse and compulsory liquidation
1989
Banco Ambrosiano Veneto is launched following a merger with Banca Cattolica del Veneto
1992
The bank expands in southern Italy by acquiring Banco Ambrosiano Veneto Sud (formerly Citibank Italia)
1998
Merger agreements with Cariplo lead to the founding of the Banca Intesa group.
Rediscovering the records
Banco Ambrosiano Veneto did not have its own historical archives.
However, the family tree reveals the numerous banks which joined it over the years as part of two main waves of mergers:
banks based in the Triveneto region (early 1930s);
banks based in southern Italy (mid 1970s).
In a race against time, the bank's records and other documents of historical interest were saved during visits to its local storage facilities and by contacting serving and retired staff members.
The company records of 27 institutions are currently available for consultation:
incorporated banks in the Veneto region;
incorporated banks and banks under liquidation in the Veneto region;
incorporated banks in southern Italy.