The fall of the rebel angels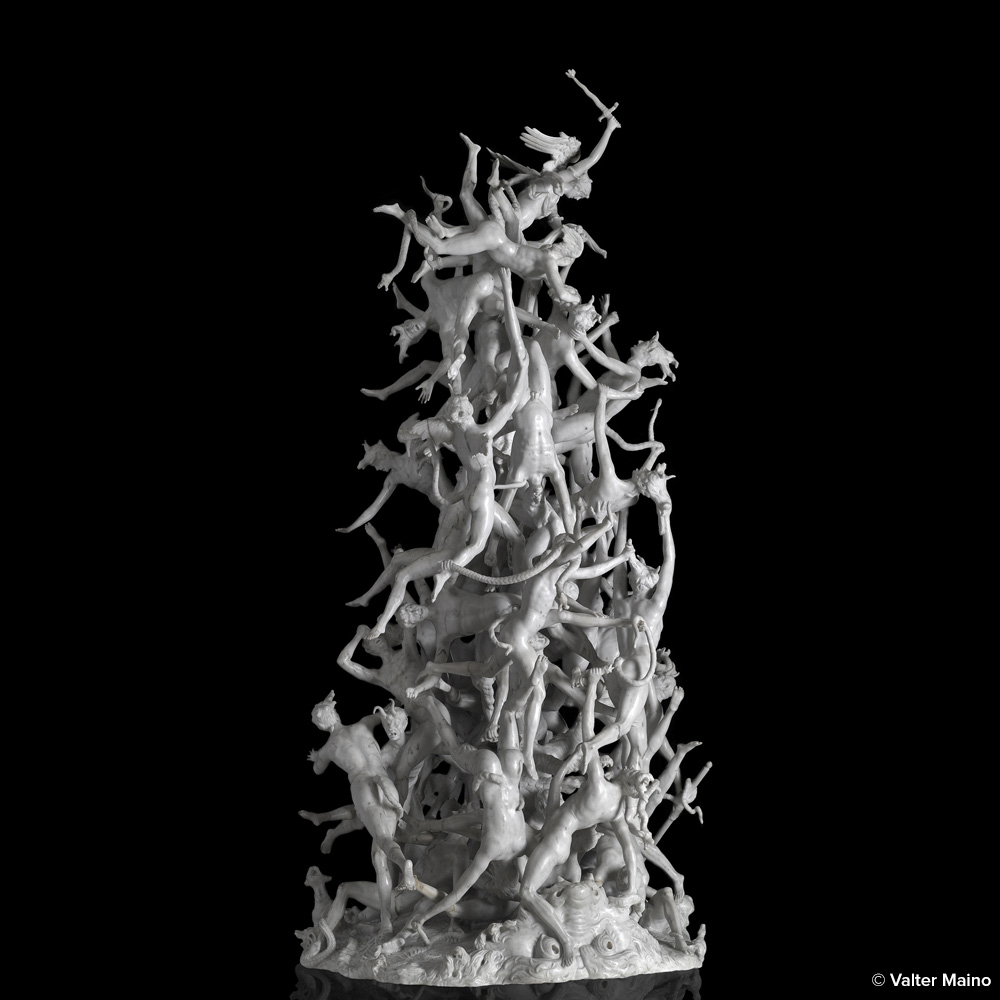 The masterpiece from the Intesa Sanpaolo collection, on permanent display in the Gallerie d'Italia - Palazzo Leoni Montanari in Vicenza, will be loaned, for one time only, for Jean Clair's "Inferno" exhibition until 9 January 2022 as part of the celebrations commemorating the 700th anniversary of Dante Alighieri's death
The Fall of the Rebel Angels, a sculpted masterpiece housed at Intesa Sanpaolo's Gallerie d'Italia – Palazzo Leoni Montanari museum in Vicenza, which has never been presented in a temporary exhibition before, is one of the works that will feature in the Inferno exhibition at the Scuderie del Quirinale centre until 9 January 2022.
Curated by Jean Clair, the exhibition pays homage to Dante Alighieri 700 years after his death on 14 September 1321 in Ravenna, with more than 200 works of art dating back to the Middle Ages right up to the present day. The exhibition, which is the first major one dedicated to the subject, recounts the iconography of the world of the damned and the various transliterations of Hell on earth – madness, alienation, war, extermination etc – concluding by evoking the idea of salvation, dealt with by Dante in the closing verse of the Inferno: and thence we came forth to rebehold the stars.
According to the exhibition's curator Jean Clair, the masterpiece from the Intesa Sanpaolo collection, which acts as the starting point for the exhibition and is displayed in the first hall, is an extraordinary testimony to the diabolical vision of the 18th century, allowing an in-depth examination of the iconographic tradition of Hell and its demonic population.
The astonishing piece, comprising more than sixty sculpted figures, evocatively embodies the eternal struggle between good, represented by the archangel Michael with his flaming sword, and the forces of evil spearheaded by Lucifer, who leads the rebel angels.
In 1765 Giovan Battista Rossetti, in his Description of the paintings, sculptures and architecture of Padua, lists it as one of the main attractions of Padua, describing it as "to say the least wonderful, not tempted or even from ancient Greece". The remarkable technical mastery shown by the sculpture continued to amaze people throughout the 19th century, even beyond local borders. The theologian Antonio Rosmini describes it several times in his epistolary; the scholar Leopoldo Cicognara mentions it in his Storia della scultura (History of Sculpture), wondering "with what ingenious and curved tools the sculptor managed to pierce and direct, in every which way, the marble"; and the scholar and writer Hermann Melville made it the subject of a conference in Cincinnati. Although the sculpture received acclaim and became famous, little is known biographically about Agostino Fasolato, the artist who made it. In connection to the exhibition at the Scuderie del Quirinale centre, further studies suggest that the masterpiece could rather be credited to the ingenuity and skill of  Francesco Bertos.