20th edition of "Invitation to the Palazzo": Saturday 2 October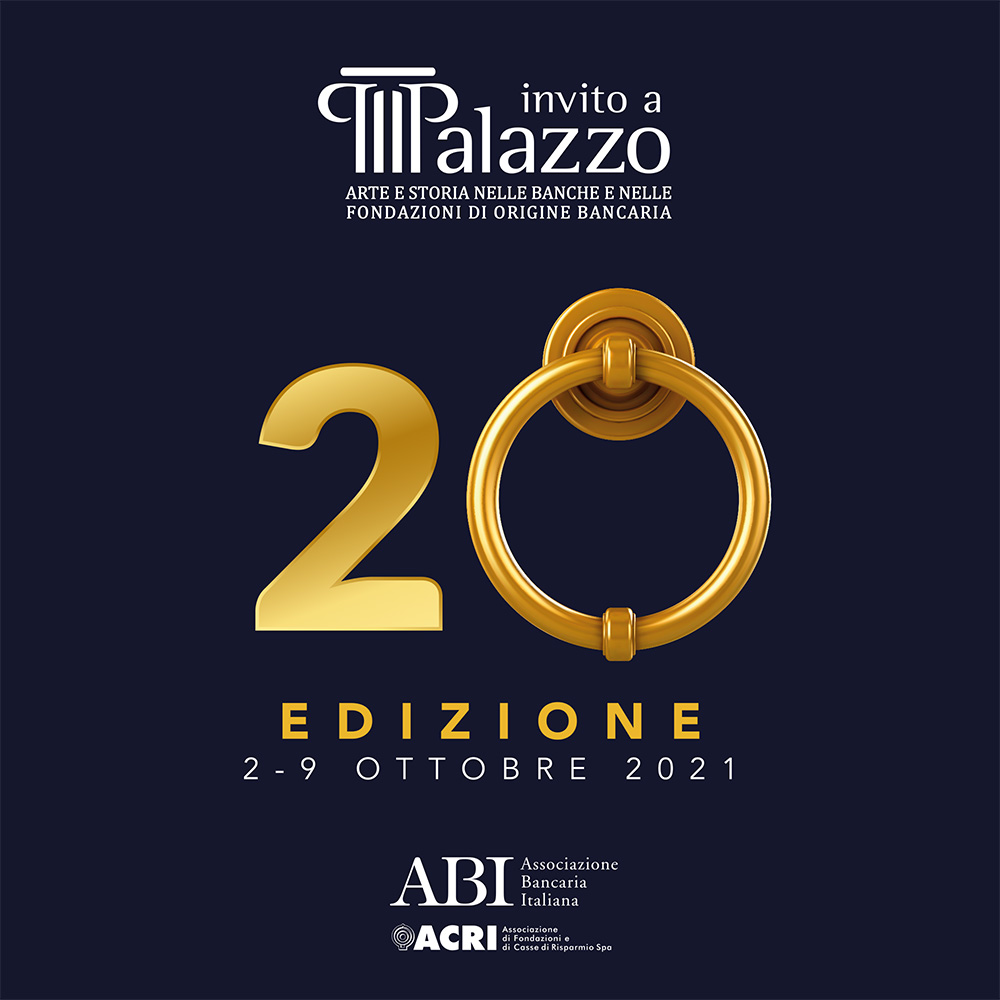 Free entrance and activities at Gallerie d'Italia in Milan, Naples and Vicenza, at the Museo del Risparmio (Museum of Saving) in Turin and at Arezzo's Casa Museo dell'Antiquariato Ivan Bruschi
A landmark birthday for Invito a Palazzo (Invitation to the Palazzo), the open day for palazzos owned by Italian banks on the first Saturday in October, run by the Italian Banking Association to highlight the architectural, historical and artistic heritage of the country's banks and banking foundations. 2021 marks the 20th edition of the event, which will be held once again this year in-person and online.
On Saturday 2 October, the palazzos involved will be offering free entrance to visitors. From Saturday 2 October to Saturday 9 October 2021, the event will also take place online, with new activities including I sentieri dell'arte con invito a palazzo: a virtual voyage of discovery around the palazzo's histories and attractions, through podcasts created by ABI Servizi in association with the journalist and broadcaster Nicolas Ballario.
Intesa Sanpaolo is taking part on Saturday 2 October by opening its three Gallerie d'Italia hubs and the Museo del Risparmio (Museum of Saving); participating for the first time under the patronage of Intesa Sanpaolo is Arezzo's Casa Museo dell'Antiquariato Ivan Bruschi. Intesa Sanpaolo's museums will be running many different events, all of them free.
Safety regulations will be in place in all the museums – entry will be controlled and visitor numbers limited – and visitors must:
show their Green Pass
have their temperature taken
wear face masks throughout their visit
Milan: a host of activities for the last Painting is back weekend & guided tours
Milan's Gallerie d'Italia is offering a host of fascinating temporary exhibits: the Invito a Palazzo (Invitation to the Palazzo) weekend provides the last chance to catch the Painting is back exhibition, a showcase of the vibrant 1980s artworld curated by Luca Massimo Barbero.
Visitors can also see:
Passo a due, the photography exhibit featuring portraits of Roberto Bolle by leading photographer Giovanni Gastel, in the stunning 19th-century courtyard
the Sala delle Colonne hosts a site specific project by artist Francesca Leone, curated by Andrea Viliani: Francesca Leone. Ulteriori gradi di libertà, nella città che resiste
in conjunction with the Jeff Koons exhibition opening on 2 October at Palazzo Strozzi, with Intesa Sanpaolo as Main Partner, the Gallerie d'Italia will be showcasing a piece by the US artist, Gazing Ball (Centaur and Lapith Maiden), 2013
Another attraction on offer is Un museo più palazzi, a journey of architectural discovery around the Gallerie d'Italia complex with free 1-hour guided tours at 12.00 pm, 2.00 pm, 3.30 pm and 5 pm for groups of up to 14 people.
Booking required: call freephone number 800.167 619 or email info@gallerieditalia.com.
Naples: non-stop guided palazzo tours, permanent collections on show
In Naples, the whole day will be dedicated to non-stop tours exploring the history of Palazzo Zevallos Stigliano, focusing on its architectural transformations, its decor and the vicissitudes of the people who have lived there down the centuries. The free guided tours will run every 30 minutes from 10.30 am onwards, with the last tour at 7.00 pm. Tours and entry are free of charge. Booking recommended: call freephone number 800.454229 or email info@palazzozevallos.com. The tours will take place with a minimum of 5 and a maximum of 10 people.
As well as the magnificent Baroque/Art Nouveau style palazzo, the recently extended exhibition space includes il Martirio di sant'Orsola (Martyrdom of Saint Ursula) by Caravaggio – the jewel in Intesa Sanpaolo's art collection – as well as 120-plus works by Neapolitan and southern Italian artists (Artemisia Gentileschi, Luca Giordano, Francesco Solimena, Anton Sminck Pitloo, Vincenzo Gemito and others), from a period spanning the early 1600s to the turn of the 20th century.
Vicenza: new staging for Russian icons & ancient pottery, guided tours & family activities
In Vicenza, Gallerie di Palazzo Leoni Montanari will be running:
1-hour guided tours entitled Un Palazzo e le sue collezioni: dalla bellezza della residenza barocca, alle nuove proposte espositive dedicate alla raccolta di ceramiche attiche e magnogreche e alla collezione di icone russe at 10.30 am, 11.30 am, 3.00 pm, 4.00 pm, 5.00 pm and 6.00 pm
Family lab. Animali fantastici a Palazzo Leoni Montanari. Sulla groppa di un ippocampo: activities for children (5-12 years) and families at 4.30 pm (lasting 45 minutes).
Booking required: call freephone number 800.578875 or email info@palazzomontanari.com.
Throughout the day, visitors will also be able to admire the permanent collections of 18th-century Venetian art, including The fall of the rebel angels by Agostino Fasolato, a stunning sculpture featuring over 60 figures sculpted from a single block of Carrara marble; Attic and Magna Graecia pottery in an educational exhibit, Argilla. Storie di vasi; and a new staging of Russian icons, Vedere l'invisibile, in conjunction with an exhibit on the contemporary Russian artist Valery Koshlyakov. Architetture celesti.
The museum will be open longer for the event: from 10.00 am to 7.00 pm (last admission 6.30 pm).
Turin: tours of the money box collection and a special Lego economics workshop for children
Located in the heart of Turin, the Museo del Risparmio (Museum of Saving) will be running:
a special Legonomia Workshop for children aged 6 to 12 at 3.30 pm and 5.00 pm: a fun, simplified approach to economics and topics such as inflation, GDP, unemployment, the cost of climate change and gender disparity
guided tours of the money box collection, Dal passato al futuro, beginning at 10.00 am and 2.00 pm (lasting up to 45 minutes).
Booking required: email prenotazionimdr@civita.art by 30 September.
A virtual tour is always available online.
Arezzo, Casa Museo dell'Antiquariato Ivan Bruschi: family workshops & guided tours
Opening to the public for the first time under the patronage of Intesa Sanpaolo is Arezzo's Casa Museo dell'Antiquariato Ivan Bruschi at historic Palazzo del Capitano, home to the Foundation of the same name. The museum's programme for Saturday 2 includes:
an in-person educational workshop for families at 11.00 am: Pronta la valigia, partiamo per un viaggio in Oriente!
at 4.30 pm there will be a guided tour of the exhibit L'Oriente in Casa. Opere dalla collezione di Frederick Stibbert, with a follow-up featuring online and in-person contributions at 5.30 pm; last guided tour at 7.00pm.
A virtual tour of the museum is also available on the website.
Original audio stories with Nicolas Ballario
To mark the 20th anniversary, visitors will be able to embark on a new virtual tour of Gallerie d'Italia thanks to a project supported by ABIServizi, I sentieri dell'arte con invito a palazzo: original podcasts by broadcaster and storyteller Nicolas Ballario, available via a geo-localised map.